VKY announced as sponsor of the AI, Data and Automation stream at Digital Scotland 2020 in association with FutureScot.
Last year I presented a workshop on Automation at the Digital Scotland event and was lucky to meet lots of fantastic people from diverse organisations across the public sector in Scotland. For many, that was the first time they had heard of Robotic Process Automation/RPA/Intelligent Automation, our partner UiPath who appeared with us on the day, or of VKY.
Huge Interest in Scottish Public Sector
When I first started talking to people about automation back in 2015, I was viewed as enthusiastic but obviously crazy. I regularly heard "this will never catch on"! For a long time in Scotland it didn't and Scotland is now well behind neighbouring countries, Europe and the US. However, over the last 12 months, interest in automation in the public sector in Scotland has increased massively. We recently saw an automation specific PIN issued by Scotland Excel and case studies are appearing from a number of Scottish Local Authorities. I can't go into detail here about our public sector pipeline, but I can say that Scotland is awakening to the benefits and potential of automation.
Bigger and Even Better in 2020
The Digital Scotland 2020 event will be at a new venue – the Edinburgh International Conference Centre (EICC) and will be doubling the number of delegates from 400 to over 800. The variety and diversity of speakers and exhibitors last year was excellent and we really enjoyed our attendance.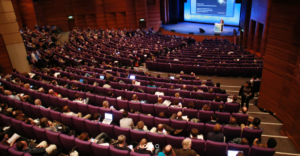 Stream Sponsor
We are delighted to announce that our partnership with the Digital Scotland event is extending for 2020. This means VKY will be sponsoring the AI, Data and Automation stream of the enlarged conference and our people will be on hand in the exhibition area to answer any automation related questions from delegates.
To find out more and to register, please visit the Digital Scotland website
See you there!
Alex
Alex Croucher is Director of Intelligent Automation at VKY